Dear Sir or Madam,
After 2,5 years of intensive work, the Interreg Danube Transnational Programme project DanuBioValNet was successfully finalized on the 30thof June 2019. During these years, BIOPRO led a consortium consisting of 17 international partners with the long-term goal of promoting the bio-based industry in the Danube Region and establishing a sustainable network. In order to reach as many actors as possible, national cluster organisations as multipliers were the central contact partners. They developed solutions for the bioeconomic development in cooperation with policy and research.
More than 2.000 stakeholders took part in the project's events. They got informed about the bioeconomy and also actively participated in various expert workshops and thus in the development of the project results. The "Joint Bio-Based Industry Cluster Policy Strategy" aims to promote the bioeconomy in the Danube region via macro-regional cluster-based policy approaches. The associated "Action Plan" explains specific implementation instructions and the "Cluster Tool Box" provides economic development agencies with methods for positioning and networking their clusters in the bioeconomy. Many other results and reports from the project, also specific to the topics phytopharma, eco-construction and bio-based packaging, can be found on the project page.
We hope you enjoy reading the newsletter
The BIOPRO Team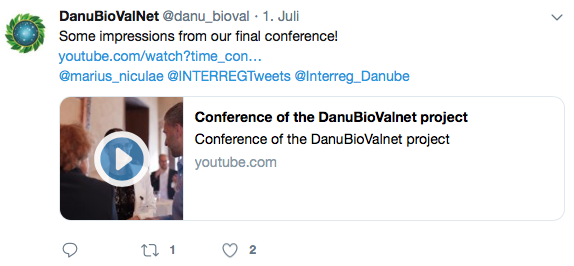 10.07.2019

Plants are often used for one particular purpose only. However, walnut trees have much more to offer than just delicious nuts. The AlpBioEco project is studying the potential of walnut trees for the bioeconomy and how the potential can be exploited commercially. The international team of researchers is also focusing on apples and herbs.
04.07.2019

Germans consumed 235 chicken eggs per head. While egg white and egg yolks are processed into cakes, pasta or scrambled eggs, the shell predominantly ends up as organic waste. This despite the fact that eggshells are complex composites of lime and protein fibres. "It has repeatedly been shown over recent years that natural products are excellently suited for energy storage," explains Professor Maximilian Fichtner from the Helmholtz Institute Ulm, a facility that comes under the Karlsruhe Institute of Technology (KIT) in Karlsruhe.